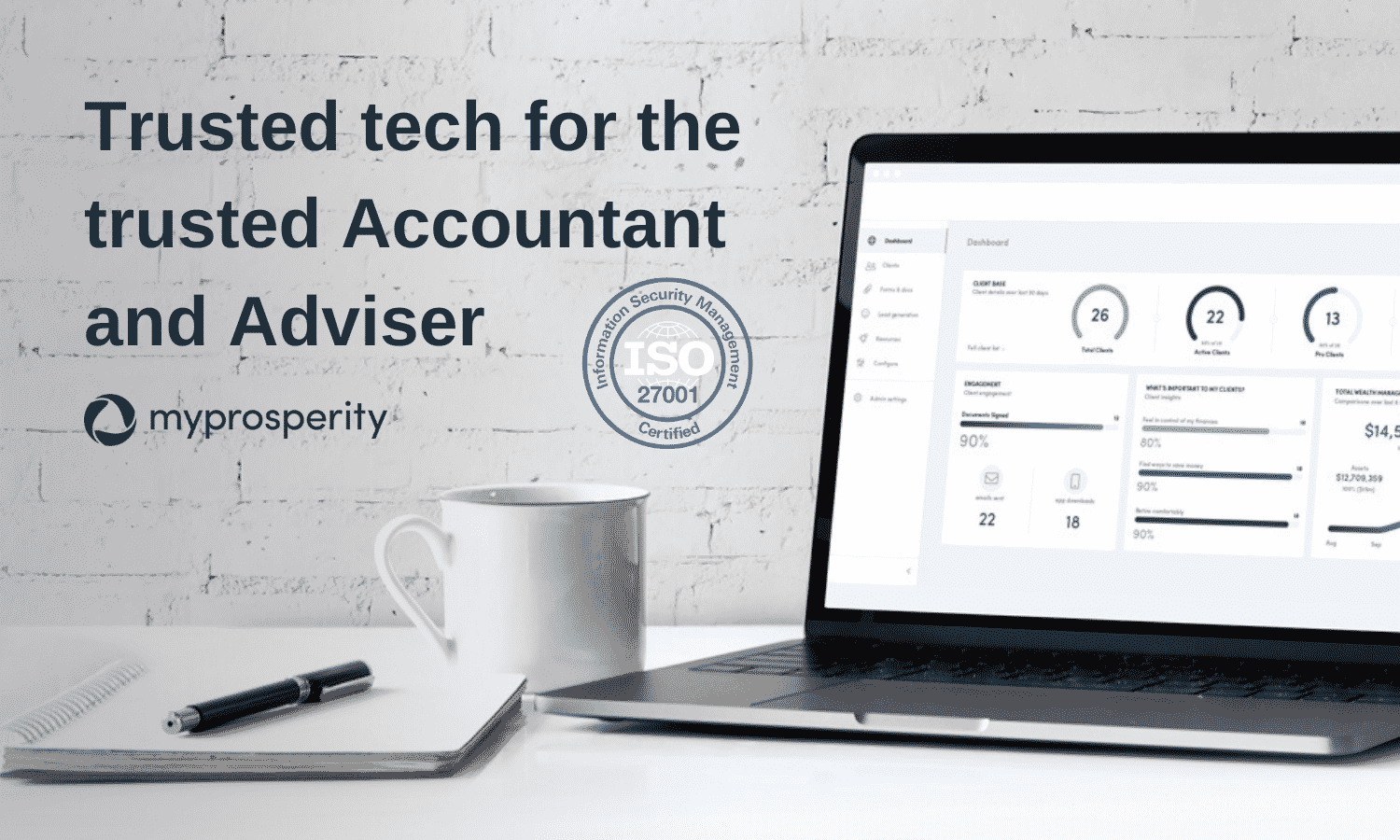 A key focus for myprosperity is providing a platform that both our partner firms and their clients can trust. Therefore, we continue to invest in platform security to provide peace of mind. One element of this is maintaining our ISO 27001 certification, which verifies our platform at the global standard for data security and compliance.
I am pleased to advise that we have successfully retained our ISO certification in 2021 after extensive examination from Ampion auditors – thank you to Alan and Peter. This verifies myprosperity's bank level data protection and encryption which ensures a secure transfer of data between accountants, advisers and your clients.
Our Executive Director, Peter McCarthy elaborated, "Many advisers and accountants still use applications like email to communicate with their clients and share valuable information. This is not secure and risks severe security breaches. From the beginning myprosperity has strived to deliver a platform that brings together the clients' financial world, increases practice efficiencies and safely stores sensitive data. Our recertification with ISO 27100 in 2021 is part of this ongoing commitment to our users."
There is a growing need for a secure platform to exchange sensitive information to facilitate tax returns, investments and a range of other financial services. Our team at myprosperity has worked tirelessly to achieve our recertification and continue to explore new ways of ensuring the best security measures, for example, our industry-leading e-signature feature.
myprosperity hosts your data in secure Australian data centres provided by Amazon Web Services (AWS), the best data security available in the cloud today.
This investment in security allows us to integrate with leading global platforms like Xero and Iress. We also implement Multi-Factor Authentication (MFA), McAfee and Verisign to further secure data.
The usage of our platform has skyrocketed over the past year and therefore maintaining our ISO and security standards becomes more and more important as we become the trusted platform trusted advisers use to collaborate with their clients. Thank you for your support as we continue to develop myprosperity into a platform with an information security management system that delivers our users the efficiencies, reliability and peace of mind they deserve.